Spray foam insulation has grown in popularity across Wisconsin in recent decades. As homeowners seek ways to reduce their natural gas bills and increase home comfort, spray foam insulation is an excellent solution.
Why Use Spray Foam to Insulate My Home?
Insulating your Milwaukee-area home with spray foam is a great way to cut energy bills and stop drafts. Polyurethane foam is more resistant to water damage than some other types of insulation, and it also helps to air seal the home. Spray foam insulation can help fill gaps, cracks, and irregular spaces that might be hard to fill with other types of insulation. We commonly use spray foam to insulate rim joists and the attic side of the partition top plates.
Our Approach to Home Insulation
At Weatherization Services, we strive to create the best value for our customers, resulting in the greatest cost savings over time. For many home weatherization projects, we recommend a couple of home insulation and air sealing products. Foam insulation is commonly the most economical when used with cellulose or other types of insulation. We also use infrared cameras before and after every job to make sure we're getting the job done right.
Energy Efficiency Rebates for Wisconsin Residents
Focus on Energy offers attractive rebates for weatherizing and insulating Wisconsin homes. As an approved contractor for the program, we can help you every step of the way. The Weatherization Services team can help you qualify for up to $2,250 in energy efficiency rebates. This home energy efficiency program is available throughout the Milwaukee area, including the towns of Glendale, Whitefish Bay, Racine, and Kenosha.
Avoid Ice Dams
Ice dams can form on a roof when snow accumulates on a house with inadequate insulation and air sealing. Heat leaks out of the home, warming the roof and melting the snow on roof overhangs. As snow melts, water flows down the roof, under the remaining snow, onto the eaves, and into the gutters. Once the water meets colder conditions, ice forms on overhangs and in the gutters, creating a dam. With time, the snow that melts cannot drain properly through the ice. Unfortunately, ice dams can damage ceilings, walls, roof structures, and insulation. Our spray foam insulation contractors are trained in preventing ice dams with proper attic insulation and performance improvements.
Want to learn how spray foam can make your home more comfortable? Contact us or call (414) 873-4945 today for a free estimate.
Latest Blog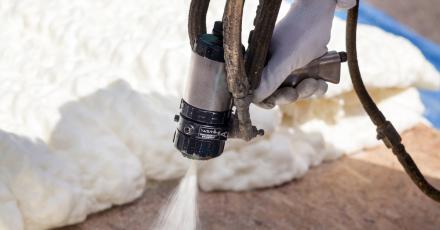 No matter what kind of insulation you currently have in your attic, one quick way to determine if you need more is to look across the span of your attic. If your insulation is just level with or...
Read more
Latest Promotion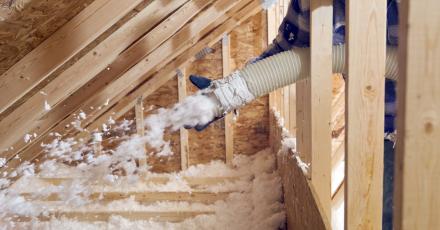 Does your home have high energy bills and comfort issues? If so, we can give you an estimate on our insulation service. Many Milwaukee-area homes have insufficient insulation, resulting in high... Read more